Roofing Contractors | Uncategorized
The 5 Best Shingle Manufacturers of 2022
When you buy a new roof, you deserve the best materials to keep your home safe for a lifetime.
Many homeowners won't shop for a shingle manufacturer; they shop for a contractor.
However, shingle manufacturers make a big difference. Each has its standards, shingle technology, and installation methods.
Not every manufacturer will deliver the same quality, so it's best to know a few top manufacturers before making a final decision.
Rescue My Roof has been in the roofing industry for over a decade, working with people stuck on choosing the right shingle manufacturer.
We helped them, and we'll help you too.
We've made a list of the top 5 best shingle manufacturers of 2022, so you know the best people to go to for roof replacement materials.
The Top 5 Shingle Manufacturers
Based on shingle quality, ease of installment, algae resistance, and more, here are the best-of-the-best shingle manufacturers in 2022.
1. Atlas
Atlas was founded in 1982 with a mission to be the leading provider of high-quality roofing materials, and boy, did they succeed.
Atlas provides many lines of shingles, including their Pinnacle and Storm Master lines, which come with Scotchgard protection against algae.
Their shingle technology keeps your roof bright and vibrant for a lifetime. And their shingles come with a manufacturer warranty to protect against manufacturing defects.
Certified Atlas contractors can offer a 50-year non-prorated warranty for all 19 color options.
Learn more about Atlas Shingles here.
2. CertainTeed
Are you looking for a unique shingle design to add a dazzling look to your home? Look no further.
CertainTeed's Landmark Pro shingles come in high-definition colors and offer the best durability. With CertainTeed, you can get a luxury-looking shingle for an affordable price.
Landmark Pro shingles have two laminated layers to imitate the look of wood shakes without the high cost. They also have a class A fire-resistance coating, a lifetime warranty, and a StreakFighter warranty to protect against algae.
Find out more about the CertainTeed Landmark Pro here.
3. Owens Corning
Owens Corning provides high-quality shingles with outstanding durability. They are made to last and will keep your home safe for decades.
Their duration series features SureNail Technology with a wide, highly visible fabric strip for the nailing zone.
The visible nailing zone provides a "no guess" nailing zone and more enforcement, creating a water-tight seal.
With these shingles, you get a lifetime warranty for as long as you own your home. Additionally, the shingles are guaranteed for up to 130 mph winds.
Click here to learn more about Owens Corning shingles.
4. Malarkey
Malarkey produces shingles with NEX Polymer Modified Asphalt to create unmatched durability.
Additionally, their shingles are environmentally friendly! Malarky epicycles rubber and plastics to reduce landfill waste and create smog-reducing granules.
They also offer shingle lines with Scotchgard protection against algae and provide class 4 ratings.
You can read more about their dimensional, 3-tab, and designer shingles here.
5. GAF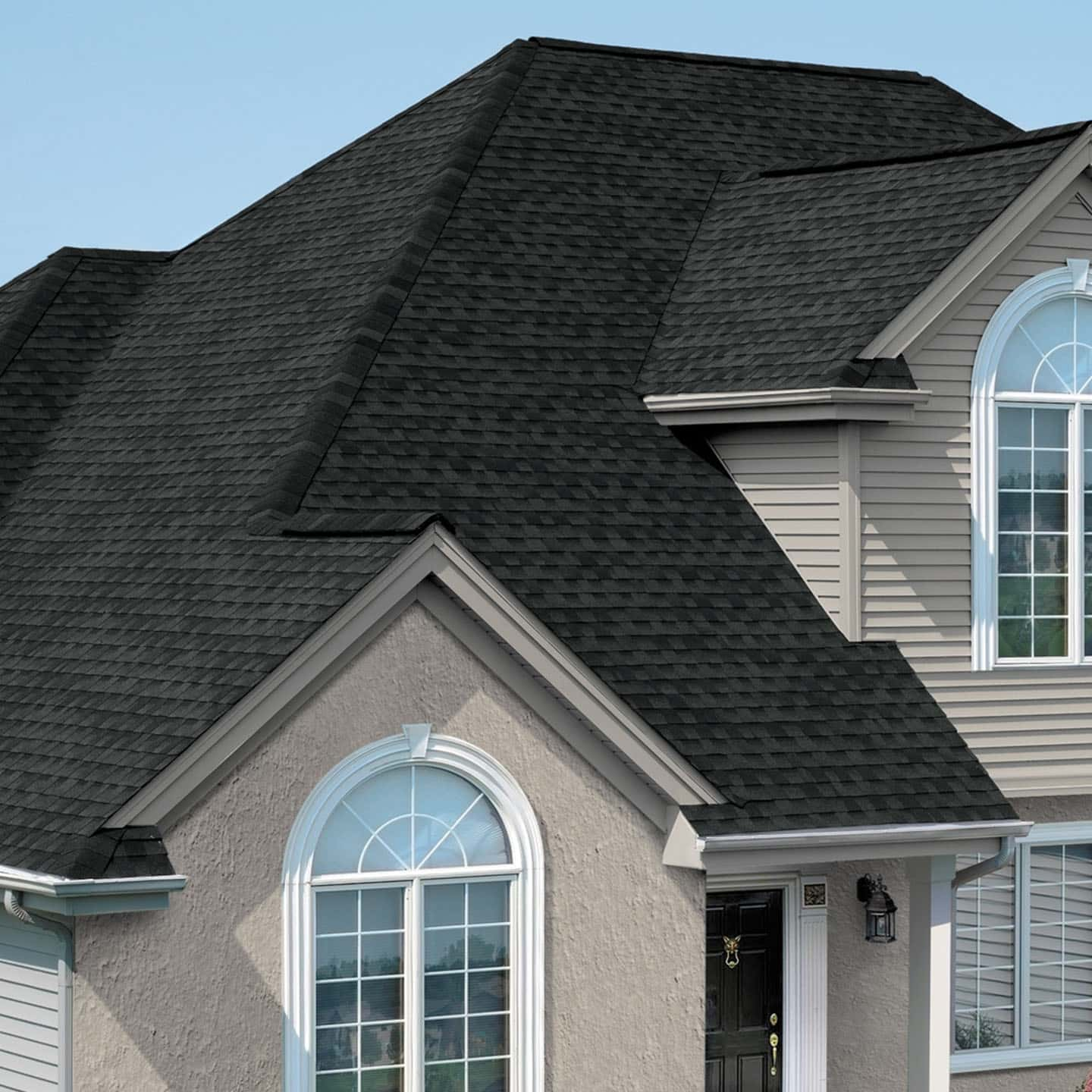 GAF HDZ shingles offer great value, peak performance, and a dimensional look to your home.
With the Timberline shingles, you can achieve an architecture-style look for an affordable price – and it comes with a lifetime warranty.
HDZ shingles also offer StainGuard Algae Protection to prevent unsightly discoloration, LayerLock Technology to fuse shingles, and a wind warranty.
You can learn more about GAF's impressive shingle options here.
Choosing Your Shingle Manufacturer
Rescue My Roof has researched to guarantee you will get the best bang for your buck with these top five manufacturers.
While we know their shingles have good nailing zones and warranties that make them good choices, here are some other options you should consider while picking the right manufacturer.
The shingle weight – the heavier and thicker the shingle, the more durable it is. Heavier shingles will have a longer lifespan.
Nailing zones – nail zones are where two shingles overlap. Having solid and wider nail zones prevents shingles from being blown off.
Contractor Certification – find a certified contractor to install whatever shingle manufacturer you choose. This will ensure high-quality workmanship.
If asphalt shingles don't seem like the right fit for you, don't fret. Learn more about other shingle options with "3 Things You Need to Know About Cedar Shake Roofs" and "Are Composite Shingles Right For You?"
You can also download our buyer's guide to learn everything you need to know about getting a new roof.
Are in the greater Milwaukee area and looking for an Atlas-certified contractor? Rescue My Roof is here to help. Contact us today to schedule your free roof estimation.