5 Things You Must Know About Flat Roofs
Investing in a new roof is not as simple as calling a roofing contractor and telling them what you want. Each roofing system has advantages, disadvantages, customizable components, and maintenance steps.
It's essential to research any roof type before buying to avoid any nasty surprises. When you do your due diligence, it results in being confident in every decision you make during the roofing process.
Since you're here, you're probably wondering about some of the basics of buying a flat roof. What are your flat roof options? Do flat roofs have any disadvantages?
Rescue My Roof has been educating southern Wisconsin homeowners for over a decade, helping them make the best home decisions. We've walked them through the ins and outs of flat roofs – today, we're bringing that information to you.
In this article, we'll cover the top five essentials you need to know about flat roofs. Ultimately, you'll walk away with the confidence to purchase a flat roof with no problems.
Top 5 Flat Roofing Essentials
One doesn't simply purchase a flat roof. There are decisions you'll make before you contact a roofing contractor.
Here are some things to consider that will give you insight into what necessary decisions you'll make before buying a flat roof.
1. Flat Roofs Shouldn't Be Completely Flat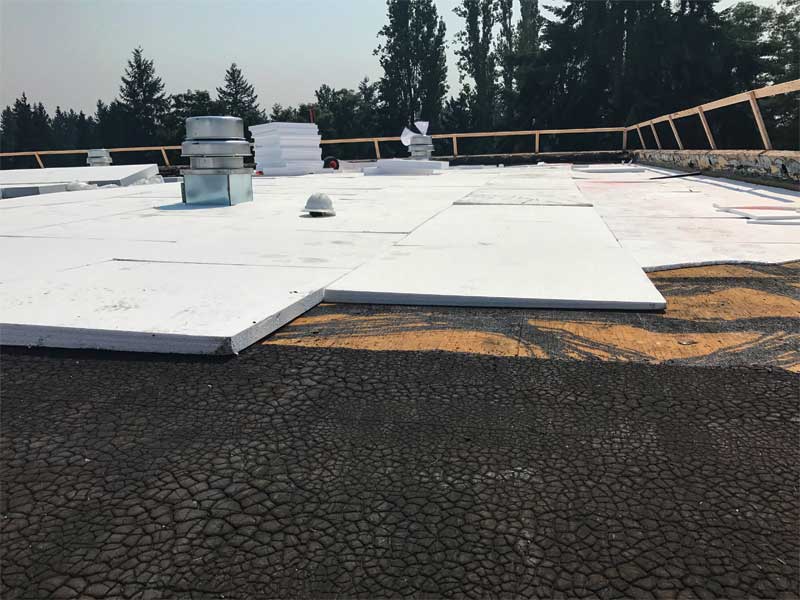 Most people would assume flat roofs are exactly how they sound – flat. However, a roof without even the slightest pitch could threaten your home's integrity.
All roofs, even "flat" roofs, should have a slight slope so that water doesn't pool on your roof.
Water pooling on your roof increases the risk of leaks and can lead to rotten decking.
There are tapered roof systems for flat roofs that allow water to drain off your roof. With this system, it will slant in the direction you want the water to drain without being too noticeable.
If your roof is completely flat, you may want to consider discussing tapered roofing systems with your contractor.
2. There Are 3 Types of Flat Roofs
There isn't just one option for a flat roof – there are three! Having options allows homeowners to choose the best roofing system for their needs.
Here are the three flat roof options:
Rubber Membrane Roof (EPDM)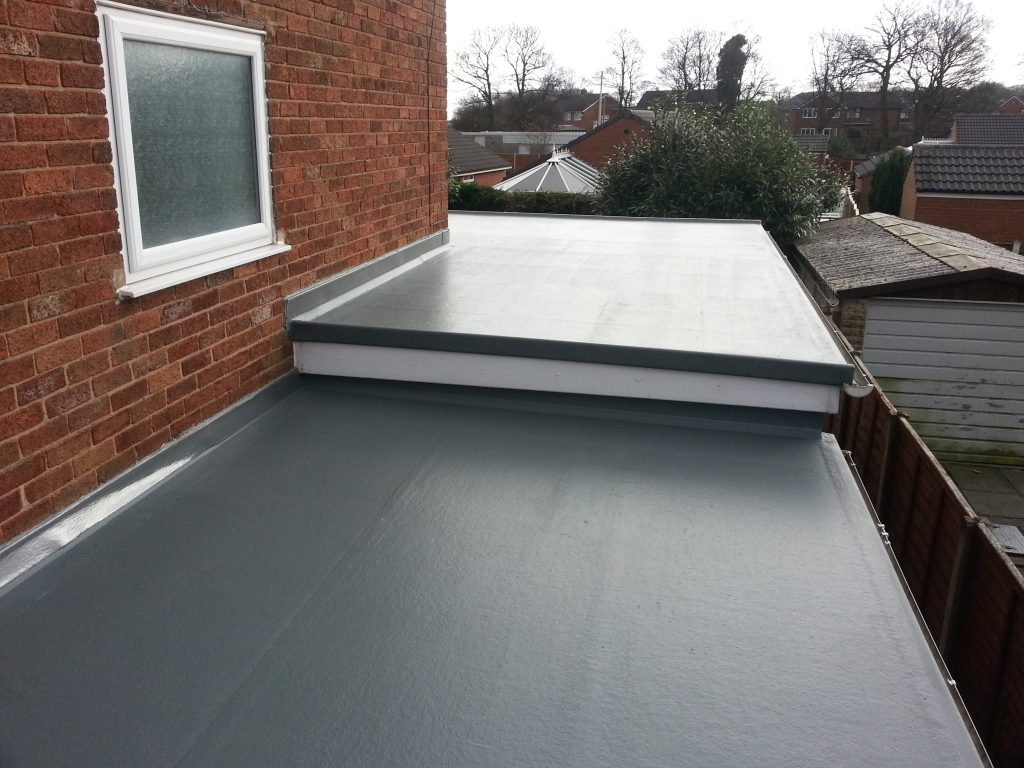 A rubber membrane roof (also known as EPDM) is a true rubber roof. It's made of a single-ply membrane material and is engineered to resist sunlight damage.
For installation, EPDM can be secured with fasteners, ballasted with stone, or glued down.
Rubber flat roofs offer several benefits. They are easy to install, resistant to scuffs and tears, and leaks are easy to patch.
However, rubber roofs can have their downsides. Usually, this roofing material comes in black, which absorbs a lot of heat. While lighter-colored coatings are available, they can add 30% to the cost.
Bitumen Roof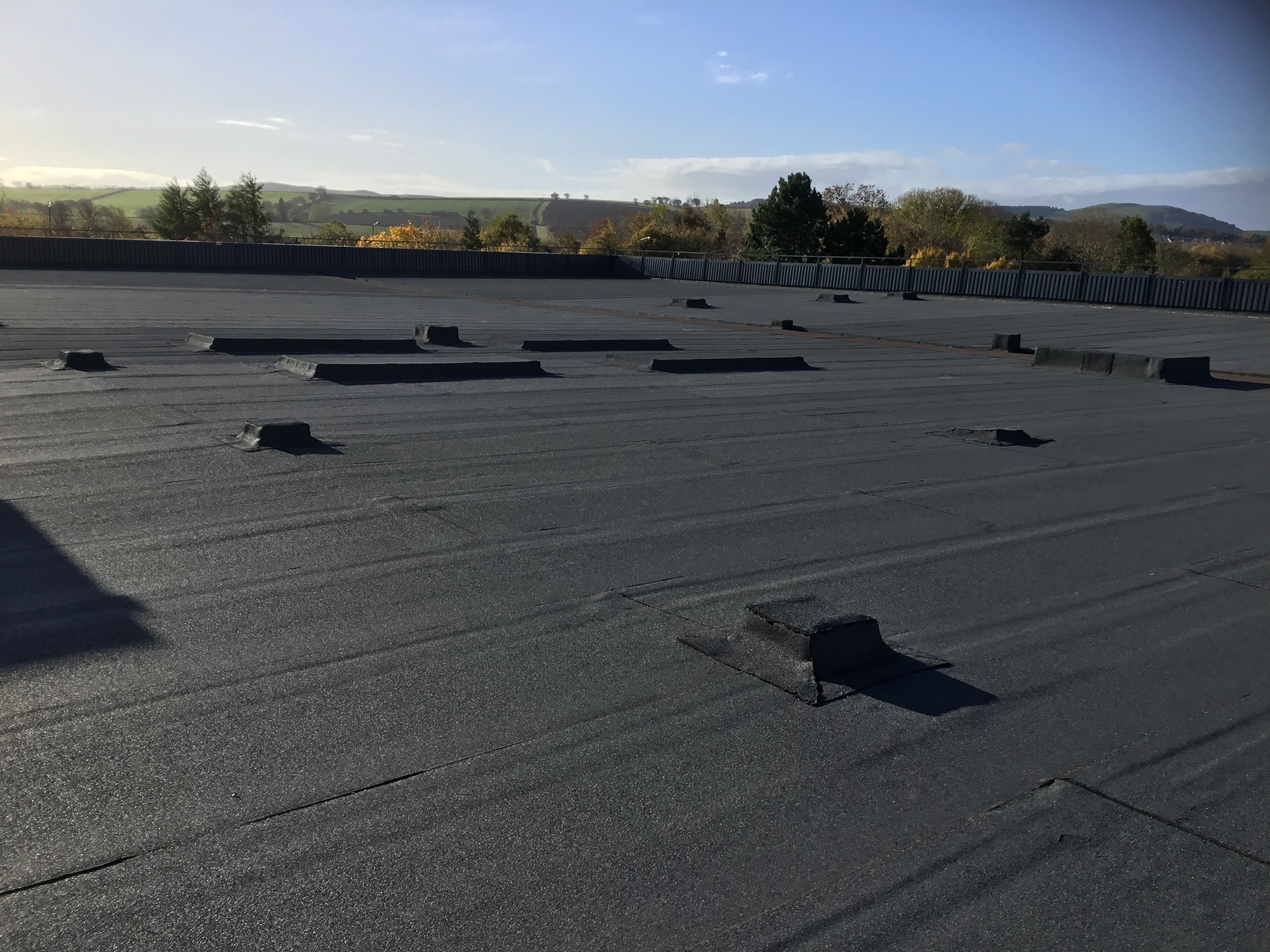 Bitumen flat roofs are made of a single-ply roofing material similar to an ice and water shield. However, they have a mineral-based surface.
Newer bitumen system roofs are a peel-and-stick material, which is easily installed. Additionally, its light color reflects heat and can reduce energy bills.
Rescue My Roof recommends using the CertainTeed Flintlastic roofing membrane for bitumen roof projects. It has colors to match most shingle colors, and installation does not disturb building occupants.
TPO Flat Roof
TPO roofs are primarily seen in warm climates (such as the south) as they reflect sunlight. Thermoplastic Polyolefin is a roofing membrane used in commercial and residential roofing.
For homes with occupied roofs directly underneath the flat roof, TPO is recommended as it will keep the room below cooler.
However, unlike Bitumen roofs, TPO can be quite slippery. If you plan on using your flat roof as a recreational space, TPO might not be the right material for you.
3. Flat Roofs Can Cost Upwards of $10,000
On average, flat roofs cost $800-1,200/square (a 10×10 foot area). For a 1,000 sq. ft. home, a flat roof could cost Between $10-13,000.
Costs can vary depending on square footage, roof accessibility, material, and any unexpected roofing issues.
If you want a more accurate breakdown of flat roof pricing, contact a local roofing contractor. You can compare estimates and find the best price and contractor for your budget.
4. Advantages of Flat Roofs
There are a few perks that come with buying a flat roof.
Firstly, they are easy to install. Because many flat roof systems are single-ply membranes, it's easy to install a large area in a small amount of time. This saves homeowners money on labor costs.
Additionally, flat roofs are cleaner and easier for homeowners to maintain. It's easy to see imperfections on the roof that must be taken care of to sustain its longevity, which makes it user-friendly.
5. Disadvantages of Flat Roofs
Nothing is perfect – including flat roofs.
They do have their drawbacks. When flat roofs leak, they can be challenging to diagnose. Homeowners often assume that the cause must be above it when leaks happen. However, roof leaks can happen anywhere – not just above the affected area.
If you do notice your flat roof leaking, it's best to tarp the area until a contractor can arrive for repairs.
Flat roofs also puncture easily, which can increase the risk of leaks. If you are using your roof as a recreational space, put a rug or other protective material under the furniture to protect your roof.
Replacing Your Flat Roof
Knowing you have to replace your roof is already a difficult pill to swallow – buying one shouldn't be challenging, either.
Diving into the buying process with the base knowledge of the three flat roof options, their advantages and disadvantages, and the price point can help you decide what is best for your home.
Now that you know enough to purchase a flat roof, there's one more thing to consider: finding a contractor.
Read "9 Questions You Should Ask Before Hiring A Roofing Contractor" to learn more.
If you're in the market for a flat roof in Wisconsin, look no further! Rescue My Roof is here to help. Contact us today for a free, fast, and honest roof estimate.