The Top 4 Benefits of Seamless Aluminum Gutters (Why They Are The Industry Standard)
Gutters are an essential part of any home's exterior, and choosing the right type of gutter is crucial for the integrity of your property.
Choosing gutters has just gotten easier: the new gold standard in the roofing industry is seamless, aluminum gutters.
Rescue My Roof has been working with homeowners for over a decade, helping them to protect their homes and families.
In this article, we'll detail why seamless gutters are the best choice for homeowners. Ultimately, you'll feel confident installing new seamless aluminum gutters on your home.
Are Seamless Gutters Right For You? The 4 Benefits
Seamless aluminum gutters are an excellent choice for homeowners who want a reliable and low-maintenance option for their home's drainage system.
Are you on the fence about installing seamless aluminum gutters? Here are the four benefits you need to know.
1. Seamless Design
One of the most significant advantages of seamless aluminum gutters is their seamless design.
These gutters are custom-fit to your home's dimensions, ensuring a perfect fit and seamless appearance. This seamless design has no joints or seams where debris can get stuck, reducing the chances of clogs and leaks.
Seamless gutters will give your home a high-end look while keeping it safe from leaks and standing water.
2. Low-Maintenance
Seamless aluminum gutters require minimal maintenance, making them an excellent option for homeowners who want a hassle-free option.
Unlike traditional gutters, seamless aluminum gutters don't have seams or joints where debris can accumulate, reducing the need for regular cleaning. Additionally, aluminum is a durable and rust-resistant material, meaning you won't have to worry about rust or corrosion over time.
That doesn't mean maintenance is non-existent. You may find yourselves cleaning the corners of your gutters to rid them of debris and sealing the corners with caulk every ten years to reduce the risk of leaks.
However, this maintenance is minimal compared to sectional gutters.
Constantly cleaning and maintaining gutters can be frustrating. Reduce your involvement with home maintenance by choosing the rust and debris-free option.
3. Durability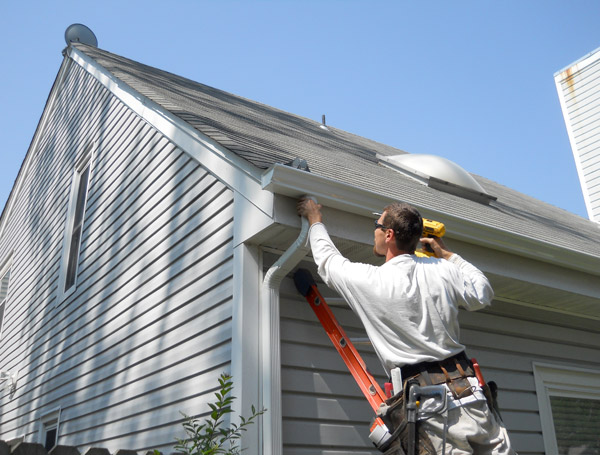 Aluminum is highly durable, making it the best choice for gutters.
Seamless aluminum gutters are built to last and withstand harsh weather conditions, including heavy rain, snow, and wind. Additionally, these gutters don't have seams or joints, so they are less likely to warp or crack over time, ensuring long-term durability.
Aluminum gutters can last up to 20 years with routine cleaning and minimal maintenance. If you're in your forever home, invest in aluminum gutters so they last the life of your home.
4. Aesthetically Pleasing
As a bonus, seamless aluminum gutters provide a sleek and modern look that can add to your home's curb appeal.
These gutters are available in various colors, allowing you to choose an option that complements your home's exterior. You can even color-match the gutters to match your home's siding.
And the seamless design of these gutters means that they blend in seamlessly with your home's architecture, providing a clean and polished look.
Installing Seamless Gutters
Seamless gutters have become the new industry standard, as they are durable, long-lasting, and require minimal maintenance compared to sectional gutters.
Ultimately, they are the most cost-effective for homeowners who want to avoid early repairs or leaks.
You can learn more about gutter pricing and installation with "How Much Do New Gutters Cost" and "6 Signs Your Gutters Need to be Replaced."If you need a gutter replacement in southeastern Wisconsin, Rescue My Roof can help. Contact us today to get a free estimate.