Can You Combine Different Roofing Materials? (Longevity, Pricing, and More)
​​Buying a new roof is a huge investment, so you want to get it right the first time. But sometimes, a simple asphalt roof isn't your style – what other roofing options are out there?
If metal, slate, clay, wood, or asphalt roofing doesn't add that unique touch to your roof, there is another option: you can mix and match!
Rescue My Roof has been a leading educator in the roofing industry for over a decade. Today we'll walk you through everything you need to know about customizing your roofing system.
This article will cover everything you need to know about mixing roofing materials from longevity to pricing. Ultimately, you'll know the next steps to take to get the most unique roof in your neighborhood. We'll also provide a downloadable guide to get you started.
Can You Combine Different Roof Shingles?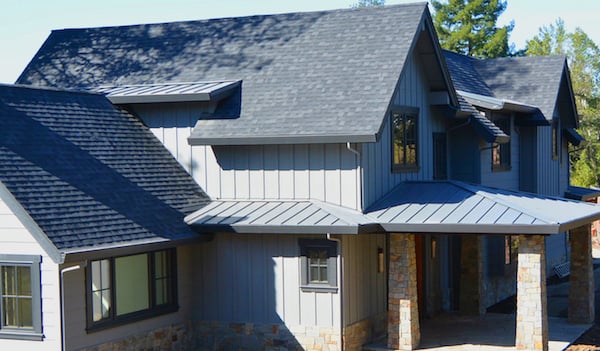 The simple answer is yes; you can combine different roofing materials to achieve a unique look.
In most cases, you will see asphalt and metal combination roofs for homes that want an industrial vibe.
While you can't combine roofing materials in the same area (you can't seamlessly transition from asphalt to metal in the middle of your roof), you can switch up the material in separate areas.
For example, if you want metal roofing on dormers and porches (areas that don't make up the bulk of your roof), that is entirely possible!
It's important to note that the more metal you add, the higher the final price of your roof replacement. Installing a metal roof also takes more skill than an asphalt roof installation, and not all roofing contractors will offer a metal roofing service.
If you're serious about combining an asphalt and metal roof, it's essential to find a skilled contractor certified in installing both asphalt and metal roofs.
Things You Must Know Before Combining An Asphalt and Metal Roof
Replacing a roof with a combination of materials isn't your run-of-the-mill roof replacement. The process is going to be different than a simple asphalt roof replacement.
You need to know three things before installing an asphalt and metal roof combination:
1. There's An Increased Risk of Leaks
Leaking is a homeowner's worst nightmare.
When water seeps through your roof into your home, it can turn into a costly repair job. That's why finding a certified contractor that's up to the job is essential.
When installing an asphalt and metal roof, there could be an increased risk of leaks at the seams of your roof. This can be avoided by installing the proper flashings and making your roof watertight.
If flashings or roofing materials are installed incorrectly, it can lead to leaks and early repairs.
Ask your contractor for reviews, a portfolio, and, most importantly, their contractor certification to ensure they are qualified to install metal roofing systems.
If you notice leaks after your roof replacement, contact your contractor and cash in on any workmanship warranties. This will cover the cost of any repairs due to poor workmanship.
2. Installing A Roof With Multiple Materials Takes Longer
An asphalt roof replacement typically takes one day to complete. When you add in more materials, you also increase the overall time it takes to install the roof.
The roof will need to be installed in sections, with each material done at a different time to avoid any transitional issues.
As a result, you can add a day to the timeline for each roofing material. If you are install both asphalt and metal roof sections, your roof replacement will take approximately two days.
3. Adding Metal Increases the Cost Of Your Roof Replacement
Adding metal roofing increases the cost of your roof replacement. Not only do metal panels cost more than asphalt shingles, but they also take more labor to install.
As a result, the more metal you add to your replacement, the more it adds to the final cost. You can expect to add around $15/square foot for a standing seam metal roof.
These numbers aren't exact and can fluctuate based on your location, the contractor, and the size of your home.
Contact your local roofing contractors to schedule a roof estimate to get an exact number for a roof replacement.
Finding A Reliable Contractor For Your Roof Replacement
Combining different roofing materials like asphalt and metal is a great way to get a stand-out roof.
If getting a unique roof piqued your interest, remember that combination roofs may have an increased risk of leaks, will take longer to install, and will cost more than the traditional asphalt roof.
Whether or not you're ready for a combination roof or the traditional asphalt roof, the next step is finding a reliable contractor.
Read "9 Questions You Should Ask Before Hiring A Roofing Contractor" or download our buyer's guide to learn more about the next steps in the roofing process.
If you're located in Southeastern Wisconsin, you can contact Rescue My Roof today to schedule your free roof estimate. While we do not offer metal roofing at this time, we can help you achieve the asphalt roof of your dreams.