3 Signs It's Time for a Metal Roof Replacement
A metal roof can be an excellent investment for your home, providing durability, longevity, and protection against the elements. However, like any roofing material, metal roofs have a finite lifespan, and there will come a time when you need to consider a replacement.
Rescue My Roof has been an educator in the roofing industry for over a decade. While we do not currently offer metal roofing services, we have helped hundreds of homeowners navigate the roof replacement process.
Today, we'll discuss some of the telltale signs that indicate it's time for a metal roof replacement. And ultimately, you'll know if a metal roof replacement is in your future.
3 Signs You Should Replace Your Metal Roof
Metal roofs are made to last a long time. But if your roof becomes damaged or begins to leak, it could be time for a replacement.
Here are three signs you should look out for.
1. Old Paint Finish
All of the major steel panel manufacturers use a patented process to apply a painted finish called Kynar 500 to standing seam metal panels. This painted finish protects your metal panels from the elements and keeps the color you choose from fading.
Your standing seam metal roof comes with a 30-year paint warranty on the Kynar 500 finish. After the paint warranty expires, you should start budgeting to replace your standing seam metal roof.
Even though the paint warranty expires, that doesn't mean the finish is completely gone. When you see a lot of rust or the color extremely fades on your metal panels, you should start considering replacing your standing seam metal roof.
2. Wallowed Fasteners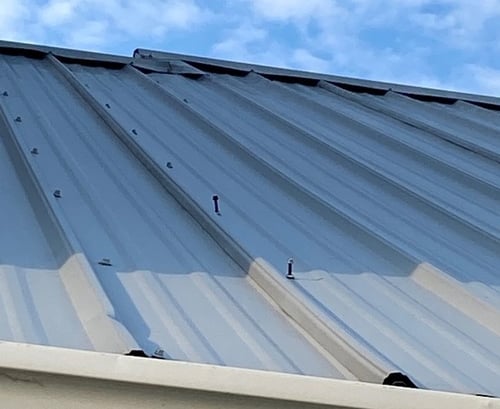 A screw down metal roof has the fasteners exposed through the top of the panels. Due to its lack of expansion and contraction, these fasteners get wallowed out until they're too big for the screws that hold the metal panels down.
If addressed quickly, you can put in the larger size screws and get some more life out of your screw down metal roof. On the other hand, if you don't catch these wallowed fasteners you're going to start seeing leaks. They'll also be susceptible to wind getting underneath the panels and lifting them up.
If you wait too long to deal with your wallowed out fasteners, you're going to have to start replacing the screw down panels. We recommend that even if you're only replacing one panel, you should go ahead and replace the entire roof.
3. Storm Damage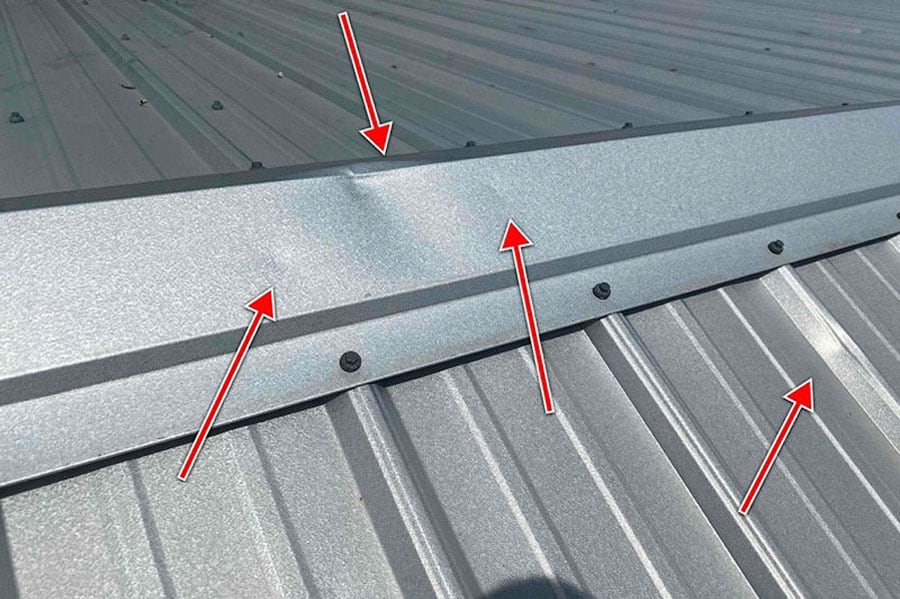 This may seem pretty obvious, but if anything damages the integrity of your metal panels it'll lead to a roof replacement. This is usually caused by acts of God, such as strong storms, hail, and wind.
For example, a tree limb (or even a full tree) falling on your standing seam metal roof could cause serious damage to the metal panels. If these limbs cause large dents and scratches to the metal panels, you should have your roof replaced before causing a costly leak.
Replacing Your Metal Roof
A metal roof can provide many years of reliable protection for your home, but it's essential to recognize the signs that it's time for a replacement.
Loose fasteners, visible damage, and paint issues are all indicators that your metal roof may need to be replaced. Regular inspections and maintenance can help prolong the life of your metal roof, but when these signs become evident, it's best to consult with a roofing professional to determine the most suitable course of action.
Are you looking for information on financing a roof? We've got you covered. Check out "6 Ways to Pay For A Roof Replacement" and "Roof Financing: 2 Loans You Should Consider."
Are you ready to find a certified roofing contractor for your project? Rescue My Roof has spent over a decade serving happy homeowners in Southeastern Wisconsin. While we don't currently offer metal roofs, we can help with all asphalt and flat roof projects. Contact us today to get a free estimate.