Negotiating Roof Prices: 6 Things A Homeowner Should Know
Replacing a roof is a significant investment, and as a homeowner, it's natural to want to get the best possible deal without compromising on quality. 
Negotiating roof prices can be a savvy way to manage your budget while ensuring a reliable and durable roof over your head. But there are things you should know before negotiating with a roofing contractor.
Rescue My Roof has been in the roofing industry for over a decade, working with homeowners to get the best roof for their price range. We will reveal everything homeowners should know to navigate their roof replacement easily.
This article will guide you through the essential steps and considerations for negotiating roof prices effectively. Ultimately, you'll know tips to get the best price for your roof and red flags to avoid when looking for contractors.
6 Tips for Negotiating Roof Prices
It's no secret that roof replacements can be pricey. That's why when homeowners sense they can get a good deal, they'll try to negotiate a lower price.
But it's not as simple as asking for a lower price. If a contractor is willing to drop the price by thousands of dollars, it may indicate that the price was too high to begin with.
Additionally, if the price is too low, the contractor loses profits that keep their businesses running.
So, while you can negotiate the price of a roof replacement, here are a few things to consider:
1. Research and Gather Quotes
Before you begin negotiating, it's essential to do your homework.
Contact several reputable roofing contractors and request detailed quotes for your project. Multiple quotes will give you a clear understanding of the average cost in your area and help you identify any unusually high or low estimates.
An unusually low estimate may mean contractors use sub-par materials and cut corners. Or they have not included the costs of materials like decking, which cannot be determined until the condition of your roof is exposed.
If an estimate is exceptionally high, it may leave room for a contractor to substantially drop a price (only if asked/as a sales tactic). While this doesn't affect the quality of their work, it may affect a homeowner's willingness to work with that company.
When comparing estimates, look for estimates that fall in the average price range and companies with good reviews. This increases the odds that you will negotiate with reputable contractors that provide quality work.
2. Understand the Scope of Work
To negotiate effectively, you must understand the scope of work involved in your roofing project. This includes the type of roofing material, the extent of repairs or replacement required, labor costs, and any additional services such as debris removal and cleanup.
Suppose you own a simple roof with a low pitch, small footprint, or minimal valleys. In that case, the scope of work will be considerably less than a 3,000-square-foot roof with multiple dormirs.
The more complex your roofing project, the higher the cost will be. If a roofing contractor cannot lower the price, it could be because the price for your project is already low with all factors considered.
3. Consider the Materials
Roofing materials vary significantly in cost and quality.
Materials like slate, clay, and metal are more expensive. The raw materials are more costly and require experienced contractors specializing in their installation.
Asphalt shingles, the most common roofing material, are less costly. If you choose an asphalt roof, you can expect to pay less than other roofing materials.
While you may prefer a specific type of material, be open to discussing alternatives with your contractor. They may recommend cost-effective options with the same durability and performance as your preferred choice.
4. Ask About Warranties and Guarantees
Warranties protect your home long after a roof replacement. Workmanship warranties cover the work done by a roofing contractor. If a roof is installed incorrectly and it leads to early repairs, the workmanship covers the cost of the repair labor. Manufacturer warranties cover the materials themselves – if there's a defect, the manufacturer covers the cost of the repair materials.
Inquire about the warranties and guarantees offered by the roofing contractor. A contractor with comprehensive warranties who stands behind their work can provide peace of mind. Negotiate to ensure these warranties are included in the final price and clearly outlined in your contract.
5. Be Mindful of Hidden Costs
Hidden costs can quickly inflate your roofing project's final price. There are three primary hidden costs to be aware of, but the most significant one is the decking cost.
One of the biggest unknowns during a roof replacement is how much rotten decking there will be. When moisture seeps through the shingles and to the base layer of your roof, it can cause a lot of damage. Leaks in the home can cause drywall damage, while wood in the attic can warp and rot if not ventilated properly.
Unfortunately, with all of the shingles and underlayments still in place on your roof, it is easier to tell the state of the decking once all of the materials are torn off.
If all of the decking on your roof needs to be replaced, it can add up to $2,000 to your roof replacement. That's a big pill to swallow if you are blindsided by it.
Additionally, there will be repair costs for the damaged drywall, and upgrading your roof ventilation system may be necessary.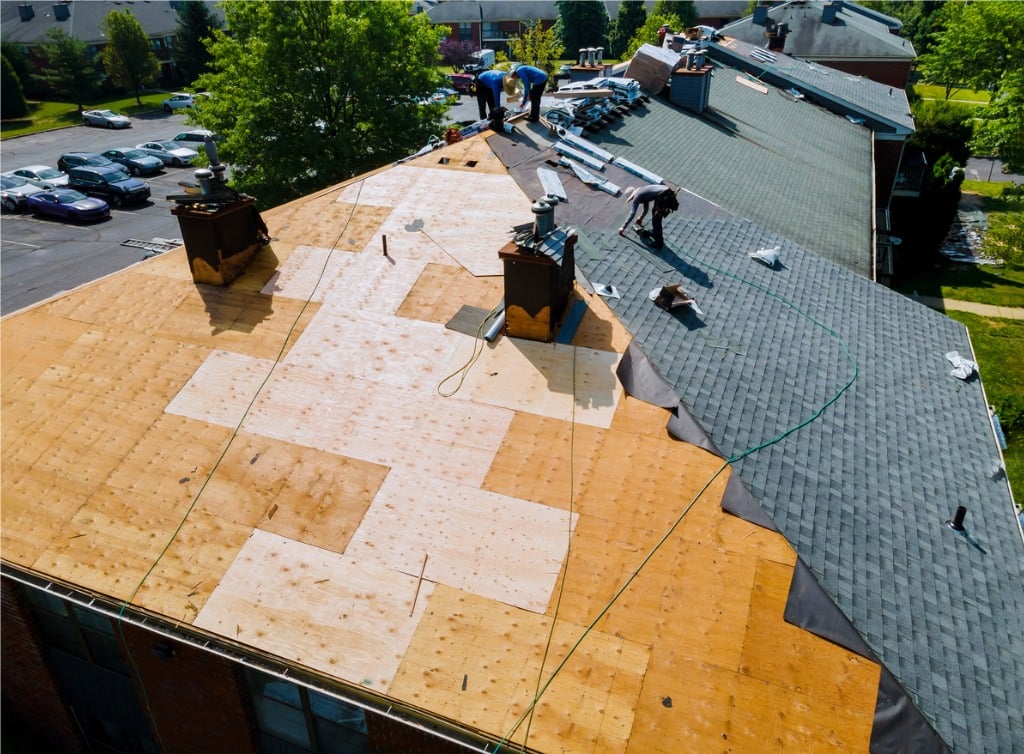 Talk to your roofing contractor about any upgrades necessary to keep your roof in good condition. If you communicate your needs with them, any additional costs can make it into the estimate, even if they may not be necessary.
Ask your contractor about any potential additional charges, such as the need for unexpected repairs, structural issues, or disposal fees for old roofing materials. Negotiate to have these costs documented and capped in your contract.
6. Ask for Discounts
Don't be afraid to ask for discounts or promotions. Contractors may offer seasonal discounts or referral incentives. For example, Rescue My Roof offers $500 off roof replacements.
While some discounts – like ours – are automatic, contractors may offer additional discounts if they're asked.
Additionally, if you've received multiple quotes, you can use them as leverage to negotiate a lower price with your preferred contractor.
However, you must be aware of red flags. If you ask for a lower price and it immediately drops a few thousand dollars, it may be a sign that the contractor was price gouging.
While you may think you've settled on a reasonable price, it takes time to regain trust once it's broken. Ensure their final number falls within the scope of the other estimate you've received, or go with another contractor altogether.
Financing Your Roof Replacement
Negotiating roof prices is a skill that can help you achieve the best possible value for your roofing project. By researching, understanding the scope of work, and being transparent about your budget and expectations, you can work collaboratively with your roofing contractor to reach a mutually beneficial agreement.
Effective negotiation ensures that your roofing project is not only cost-effective but also a sound investment in the long-term protection and value of your home.
The fun of a roof replacement doesn't end once a contract is signed. The next step is to secure financing. You can learn more with "Roof Financing: 2 Loans You Should Consider" and "How Can I Finance My Roof Replacement?"
If you're looking for a reputable roofing contractor, Rescue My Roof is here to help. Contact us today to get a free estimate.