2022 Snow Guard Pricing (Materials, Installation Costs, and More)
Home improvements, in general, can be intimidating- especially when it comes to money.
Spending extra money on home improvement projects can be difficult, especially in the aftermath of the Covid-19 pandemic. It can even feel like more of a burden when the project doesn't take priority.
Before winter comes, snow guards might be weighing heavily on your mind. If you want to stop the snow from avalanching off your roof, demolishing your exterior decorations, and potentially family members, snow guards are the first step.
But the big question is: how much do snow guards cost? Are they worth the cost?
Rescue My Roof is not just made up of roofing professionals. Our team members are parents, spouses, coaches, and, most importantly, they are human. We understand how big of a struggle it can be to pay for home projects like snow guards.
Unfortunately, there isn't a set cost for snow guards. But we can tell you the average range and what circumstances can impact the price so that you can prepare financially. We've broken it all down for you here:
What is the Average Cost of Snow Guards?
The average price for snow guards can range from $5 to $60, depending on the style.
Other factors cause the prices to vary, including the complexity of your roof, labor, and materials.
1. Snow Guard Pricing Based on Style
There are two different types of snow guards, fence-style and bar-style.
Bar-Style Snow Guards
Bar-style snow guards are continuous, rectangular pieces of metal installed horizontally across the roof to form a barrier to snow and ice.
With these snow guards, only one row will be needed. You can add more rows depending on the roof's pitch or the present snow load.
To attach bar-style snow guards, there's a bracket to which the bar is attached. The bracket will be adhered to the roof with screws or can be clamped onto the seams of a standing seam roof.
If bar-style snow guards best suit your needs, they can cost upwards of $100 per eight foot section, not including the cost of labor.
Fence-Style Snow Guards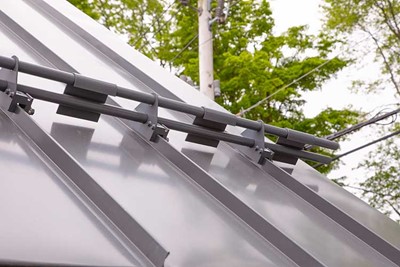 Fence-style snow guards are similar to the bar-style. However, instead of a single bar, fence-style guards have two or more tubes aligned vertically like a split rail fence.
This snow guard style is often used in custom homes where a less-modern appearance is desired.
Like bar-style guards, fence-style snow guards can be installed using screws or clamps.
Fence-style snow guards can cost $30-60 for a four – six foot section.
2. Snow Guard Pricing Based on Material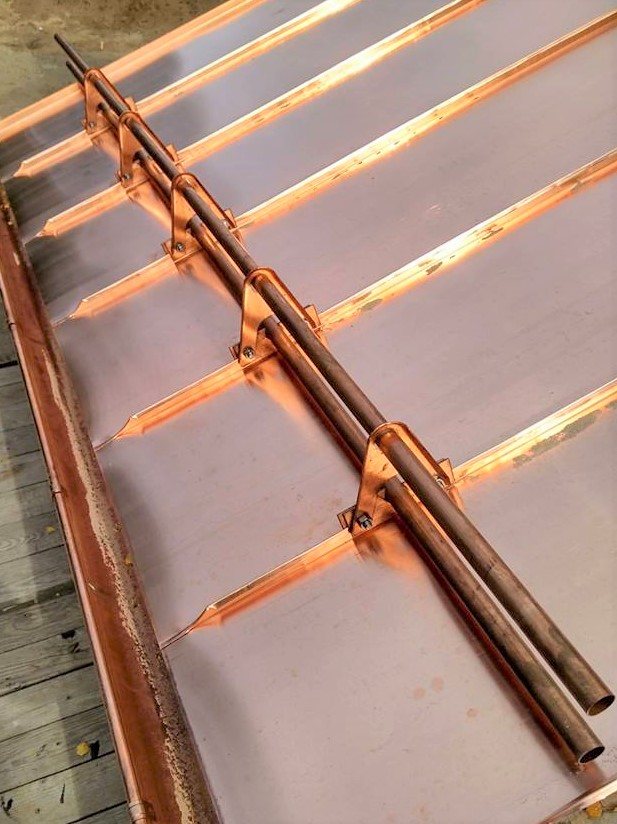 Not all snow guards are made from the same material. Whether you choose the bar-style or fence-style snow guards, there are two material options: plastic or copper metal.
Plastic bar-style snow guards are cheaper but can break off of your roof. They cost Approximately $5 per snow guard.
Copper bar-style snow guards are more expensive but sturdier and rust-resistant. Copper snow guards cost around $15-20 apiece.
3. Snow Guard Installation Cost
Installation time varies for every project, so it is essential to know that the longer the project takes, the more the labor costs.
The installation will take longer if you have a steep roof, low accessibility, or a complex roof type.
However, once those issues are conquered, installation times are typically low. Individual brackets take a few minutes to install per bracket. Rails take longer, but you will get more coverage from snow avalanches.
Typically, the project will only take two to three hours to complete.
Are Snow Guards Right For You?
If you are struggling with heavy snow sliding off your roof and damaging your gutters or belongings, it may be time to install snow guards.
Keeping the price in mind – snow guards run anywhere from $5-100 – evaluate your budget and how much coverage you need, and then call a roofing contractor for an estimate.
If you have a lower budget, there is the potential to be more cost-effective with options like plastic brackets that can help solve the snow slides.
If you have more room financially, metal brackets and bar-style snow guards could be in the cards for you. It all depends on the severity of the problem and how much durability you need.
Learn more about winter roofing issues you could face with "Ice Dams: The Main Culprit Of Winter Roof Issues" and "Preparing Your Roof for the Winter: 5 Things You Need to Know."
Ready to install snow guards? Contact Rescue My Roof today to schedule your free estimate! Work with one of our roofing professionals to get the quote you need.