The Top 5 Soffit and Fascia Companies in Milwaukee
Besides being classified as roofing jargon, soffit and fascia play an important role in the roofing process.
Their sole purpose is to provide a space for gutters to hang and potentially install intake vents.
So when you discover your gutters are leaking and causing your soffit and fascia to rot, you can feel lost. How can you find the right contractor to take the project and make your home feel new again.
With so many roofing companies available in the Milwaukee area, it can be frustrating to find where to start.
When you're having trouble finding a roofing contractor is honest, trustworthy, and capable of providing you with an exceptional roofing experience, you can turn to Rescue My Roof's recommended top 5 companies servicing the Milwaukee Area.
While Rescue My Roof has been in the roofing industry for over a decade, we recognize that we may not be the best fit for everyone. But that doesn't mean we can't help you find the contractor you're meant to hire. 
Below, in no particular order, is a list of the top five best roofing companies servicing the Milwaukee area. With this list, you'll be able to find the right roofing contractor for you. 
The Best Soffit/Fascia Companies Milwaukee, Wisconsin
When we were creating this list, we considered what companies we would call to do our own roof.
These contractors have been in the business at least five to ten years, have a good reputation, and deliver on their warranties.
All of these qualities may make them the perfect fit for you and your home.
1. Noffke Roofing Co. LLC
Founded: 1952
Headquarters: Mequon, WI
Areas Serviced: Milwaukee, Ozaukee, Washington, Waukesha, and Racine Counties
Noffke Roofing has been serving southern Wisconsin since 1952, offering full-service roofing on all roof types from EPDM to liquid coatings to wood and asphalt shingles. They offer repair and installation services for commercial, residential, church, and specialty/historical buildings. Noffke Roofing aligns their mission with this statement: "Serve our customers with the excellence they deserve."
2. Semper Fi Roofing & Exteriors
Founded: 2003
Headquarters: Mukwonago, WI
Areas Serviced: Cedarburg, West Bend, Jackson, Grafton, Saukville, Milwaukee County, Delafield, Delevan
Semper Fi is a local, veteran-owned, family-operated Milwaukee roofing company that offers roof installation and repairs. Additionally, they also offer exterior siding, windows and doors, and gutter replacements. Their primary focus is to provide customers with a great experience and the highest quality products in the industry. They are heavily involved in the Milwaukee community by supporting the Semper Fi Fund and sponsoring a Veterans in Need Sweepstakes.
3. Allrite Home & Remodeling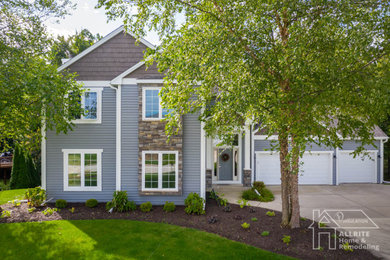 Founded: 1969
Headquarters: Milwaukee, WI
Areas Serviced: Milwaukee County
Allrite Home & Remodeling has been family-owned since 1969, and their mission is to allow homeowners to have the unique look they're looking for and always meet their needs. They have been awarded the 2021 Milwaukee Journal Sentinel Top Choice Awards: Best Siding Contractor Winner and specialize in siding, windows and doors, and roofing.
4. Paragon Exteriors
Founded: 2009
Headquarters: Eagle, WI
Areas Serviced: Waukesha and Milwaukee counties
Paragon Exteriors are factory-certified installers for CertainTeed and Owens Corning Shingles. They specialize in roof replacements and repairs on commercial buildings, condos, and other large residential buildings. Unlike many contractors, Paragon Exteriors does not require down payments for residential roofing projects. So if you don't have the 25 or 50 percent deposit that most companies ask for, Paragon may be the right option for you.
5. Infinity Exteriors LLC
Founded: 2000
Headquarters: New Berlin, WI
Areas Serviced: Milwaukee, Fox Valley, and Dan Counties
Infinity Roofing not only holds the title of the largest exterior remodeling and roofing company in Wisconsin, but they offer many services beyond roofing. If you are looking for the complete package of windows, siding, insulation, and more, Infinity Exteriors will be able to get the job done. They have a team of experts dedicated to giving customers the best experience possible.
Finding the Roofing Contractor For You
Now that you know the top five companies you'll want to contact for an estimate, here are some additional resources for you.
Make sure you find the right contractor for you by asking the nine questions listed in our article "9 Questions You Should Ask Before Hiring a Roofing Contractor."
You can also download our checklist to spot the signs of a roof in need of repair. With our checklist, if you're on the fence about getting an estimate, you'll know immediately whether or not to contact a professional.
And as always, Rescue My Roof is here to help. You can always call on us for a free estimate or any repair or replacement needs. You can contact us today to book your estimation appointment free of charge.