3 Common Soffit Issues
Soffit is the material that covers the space between the top of an exterior wall and the roof's eave. If you're looking for a place to hide your attic ventilation, the soffit is usually the spot to do it.
Soffit may be a term homeowners don't hear very often. Because the soffit is tucked out of sight, it's out of mind, too.
However, that doesn't mean you can "set it and forget it." It's essential to keep an eye on your soffit and fascia to catch minor problems early.
If you're a homeowner looking for comprehensive roof maintenance tips – including all the nooks and crannies like gutters and soffit – you're in the right place.
Rescue My Roof has been a leading educator in the roofing industry for over a decade. We've walked thousands of homeowners through the roof maintenance process so they can keep their investments in top-notch shape.
Today, we'll tell you the three things to keep an eye out for with your soffit. When you do your next inspection, you'll be equipped with the knowledge to catch any problems before they grow.
The Top 3 Problems with Soffit
To take the best care of your roof, you need to know the symptoms of significant issues.
Roof issues, like missing shingles, can be easy to spot. When it comes to the soffit, it can be more challenging to catch.
Here are three problems you should keep an eye on.
1. Moisture Damage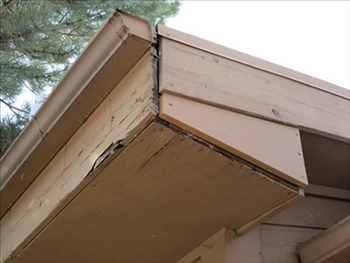 Without proper care and maintenance, wooden soffits are vulnerable to moisture damage.
With their proximity to the gutters, a gutter clog or leak will affect the soffit and fascia too.
When cleaning your gutters, you want to look for blisters, cracks, or peeling.
If you see these signs, it's time to sand your soffit and repaint it as soon as possible to add a protective coating against moisture.
If you want to avoid any rot issues in the future and you're looking for a soffit replacement, consider vinyl soffits to minimize maintenance work.
2. Dry Rot
Dry rot is an issue that occurs when the wood becomes infected with a fungus that thrives on wood fiber.
Dry rot is more common in wooden siding, but that doesn't mean it can't spread to the soffit.
If you have wooden soffits, you can check for dry rot by taking a screwdriver and tapping the soffit firmly. If pieces start to fall, the soffit may require a replacement.
If you discover signs of dry rot, the best action is to find a contractor to make repairs. They can replace a portion of your soffit without removing everything.
3. Animal Intrusion
Birds and other small animals can access your attic through your soffit. Additionally, they can nest in the soffit area.
Finding a certified contractor to install your soffit is essential to avoid unwanted pests. Soffit installation requires specific spacing that can prevent small animals from getting into your home.
How Can You Avoid Soffit Issues?
The only way to avoid soffit issues is to perform basic upkeep.
Inspecting your roof, gutters, and soffit twice a year can help you keep up with the shape of your roof.
When you notice any of the signs above, you can repaint your soffit, replace damaged sections, or replace the soffit altogether.
If you need a new roof or want to update the soffit and fascia on your home, you can schedule an appointment for an estimate.
A sales representative will walk you through everything you need to know about the cost of your new roof. However, if you're curious, check out "How Much Does a Roof Replacement Cost?" and "What To Expect At Your Roof Estimation Appointment."
Or, if you live in the greater Milwaukee Area, Rescue My Roof is at your service! Contact us today to schedule a free estimate!