What is LP Siding? Pricing, Pros, and More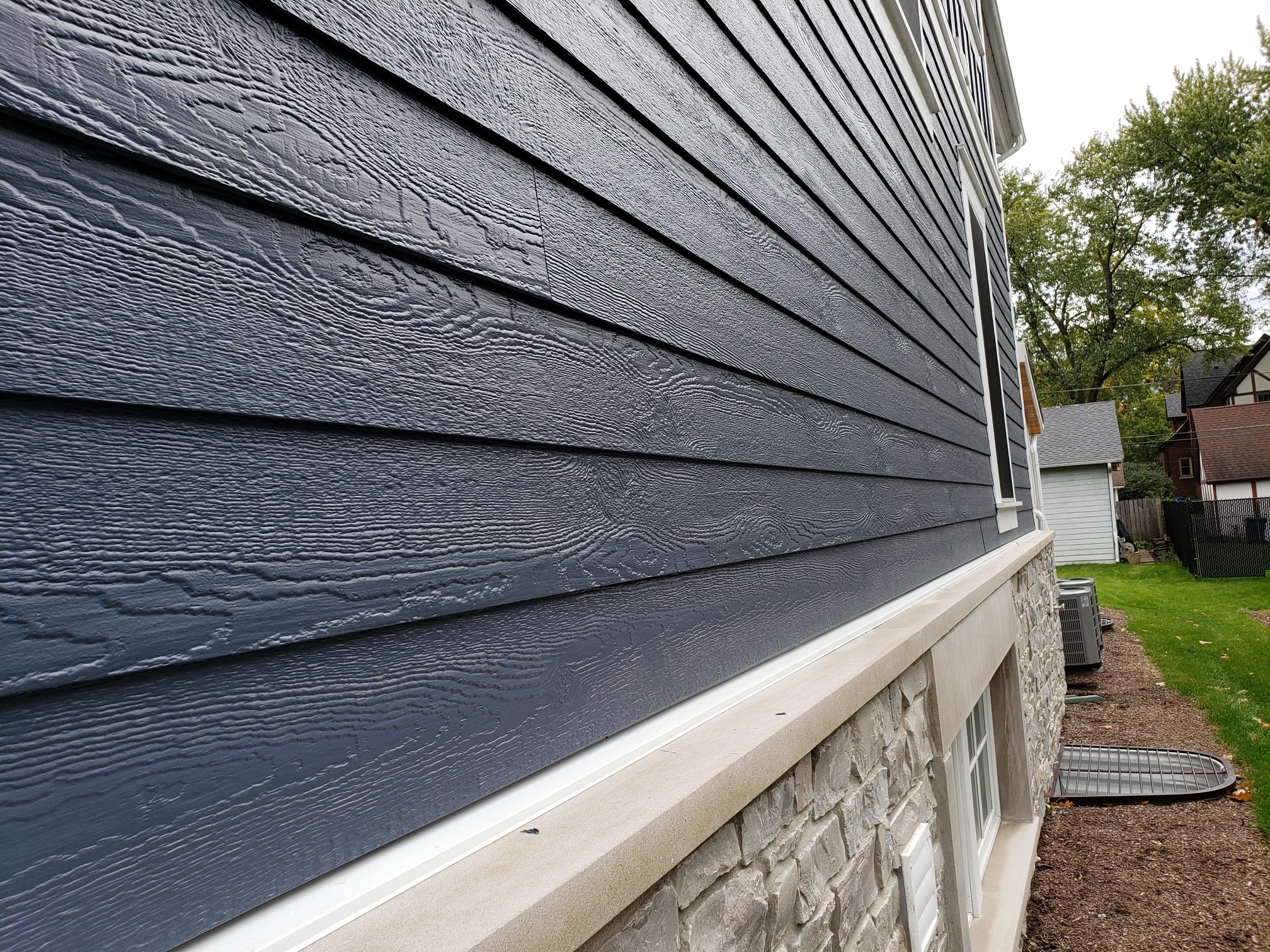 When selecting the perfect siding for your home, durability, versatility, and aesthetics are key factors.
A siding option that has gained popularity in recent years is LP siding. LP, which stands for Louisiana-Pacific Corporation, is a leading manufacturer of innovative building materials, including their unique engineered wood siding. If you're curious about LP siding and want to learn more about its composition, benefits, installation, and maintenance, you've come to the right place.
Rescue My Roof has been helping homeowners achieve their dream homes for over a decade. From roofs to gutters to siding, we've done it all. Now, we'll break down the pros, cons, and more of LP siding.
In this article, we'll explore LP Siding is, its features and advantages, and how you know it's the right fit for your home. Ultimately, you'll have a comprehensive understanding of LP siding, empowering you to make an informed decision for your home exterior.
What is LP Siding?
LP siding, or LP SmartSide, is an engineered wood siding product developed by Louisiana-Pacific Corporation. It comprises of wood strands or fibers bonded with resin and combined with a zinc borate additive for enhanced durability and resistance to fungal decay and termites.
The result is a strong and dimensionally stable siding material that mimics the appearance of traditional wood siding while offering improved performance and longevity.
Features and Benefits of LP Siding
LP siding offers several notable features and benefits that make it a popular choice among homeowners and builders, including durability, easy installation, and more.
Here's what you need to know:
1. Increased Durability
LP siding is made of engineered wood strands, making it more durable than other wooden siding options.
Manufacturers treat the wood with zinc borate making it resistant to impact, fungal decay, termites, and other pests.
2. Authentic Wood Look
LP siding closely resembles the natural beauty of wood. With deep wood grain textures and the option for natural embossed cedar or smooth finishes – you can have the natural wood look without the hassle.
Wooden siding comes with a lot of maintenance and upkeep. Opt for LP siding if you want to avoid yearly paint coatings and treatments.
3. Versatility
LP siding has various profiles and dimensions, allowing for versatile installation options.
If you want lap siding, panel siding, shakes, or even trim boards but want to avoid other materials that require more upkeep, LP siding gives you the options of many looks for a single material.
4. Easy Installation
LP siding is lightweight and easy to work with, enabling quicker and more efficient installation than traditional wood siding.
Depending on your chosen materials, siding installation can vary from days to weeks. But with LP siding, you can get the wooden look without the long installation time. LP siding can typically be installed in one to two days without delays or complications.
5. Paintability 
The surface of LP siding is engineered to hold paint well, allowing homeowners to customize the color and appearance of their exterior.
If you can imagine painting or selling the home within the next few years, LP siding allows you (or future homeowners) to customize its curb appeal.
6. Warranty Protection
LP SmartSide comes with excellent warranty coverage, providing homeowners with peace of mind and confidence in the product's performance.
LP siding often comes with 5, 15, or 50-year warranties covering peeling, cracking, chipping, or hail damage.
If you live in an area with severe storms or imagine growing old in your home – choose LP siding for the ultimate warranty protection.
Cons of LP Siding
Installation of LP siding has many benefits – but it can't be all sunshine and rainbows. Some drawbacks come with LP siding.
Here are the top five cons of LP siding.
1. Warranty Limits by Location
For homeowners in Alaska, British Columbia, Hawaii, Northern California, parts of Washington, and Oregon, the LP warranty will not cover the 16-foot long 76 series fiber substrate lap siding.
The manufacturer excludes that model of siding in specific areas because high humidity levels and heavy rains are a part of the climate in those locations. They may have more long-term moisture damage claims to deal with.
You should look for other options to protect your home and family from water damage if you live in those areas.
2. Coatings Flake Off
The coating on LP siding can occasionally flake off if installed incorrectly. You could lose some of your exterior protection, and your home is at risk for moisture damage and pest infestation.
You'll need to repaint the siding as needed to avoid early repairs and fading issues. Repainting can be done as often as every three years. But if you take shortcuts, you might find more damage to your home over time.
3. Prime and Paint Siding Edges
Your siding contractors must prime and paint the siding's edges before installation.
When you cut through LP siding, it exposes the inner core to potential moisture damage. The water penetrates deeply into the engineered wood, causing it to decay prematurely.
This can lead to early repairs – but early decay can be avoided by painting a protective coating over exposed edges. However, the added step to the installation process may add time to the installation.
4. Engineered Wood Siding is Susceptible to Fire
One of the reasons why LP siding is a popular product is due to the high number of wood fibers in the finished product. Since this design has more organic material, it's more susceptible to fire than other synthetic siding options.
However, LP siding does better than traditional wood siding with its resin mix, giving you a one-hour fire rating. But other products provide superior fire resistance.
5. No Termite Damage Protection
If you live in a region where termite damage is common, LP siding may not be the right choice.
Fiber cement siding (like LP siding) is not appealing to pests, but the wax-coated wood fibers are prime for termite chewing.
If you read the manufacturer's warranty with this product, you may discover that termite damage is not covered. You would be 100 percent responsible for any termite damage repairs.
Is your region prone to termite damage? Hardie siding is a more suitable alternative.
LP Siding Maintenance and Care
While LP siding requires less maintenance than traditional wood siding, regular care is still necessary to preserve its appearance and performance:
Cleaning: Wash the siding annually with mild detergent and water to remove dirt, grime, and other contaminants. Rinse thoroughly and avoid using high-pressure washers.
Inspections: Regularly inspect the siding (at least twice a year) for any signs of damage, including cracks, splits, or moisture intrusion. Address any issues promptly.
Repairs: If damaged, replace or repair the affected sections of siding to maintain the overall integrity and aesthetics.
Painting and Finishing: LP siding should be painted or stained to protect it from moisture. These paint coatings must be reapplied over time (every five to 10 years).
LP Siding Pricing
LP siding can cost $7-$14 per square foot.
However, siding costs can vary by home. You can expect to pay more if you have a large home with many corners. If your home is smaller, you will be on the lower end of the price range.
Is LP Siding Right For You?
LP siding is durable, customizable and gives you an authentic wood look with added home protection.
But it has its downsides. You can expect a longer installation process, limited warranty coverage based on location, and more maintenance.
If LP siding isn't right for you, there are more options. Read "5 Wood Siding Styles" and "How Do You Know If Your Siding Should Be Replaced?" 

Are you looking for a siding contractor in Southern Wisconsin? Rescue My Roof can help! Contact us today to get a free estimate.