5 Reasons to Upgrade to Architectural Shingles
Whether you're dealing with a roof leak or wanting to upgrade your curb appeal, an essential part of buying a roof is ensuring it can protect your home.
A roof should not only look good, it should also be durable enough to protect your home and family for a lifetime.
Rescue My Roof has helped homeowners build durable roofs for over a decade. We know just the right shingles to pick when you want top-notch home protection.
If you have 3-tab shingles on your roof or are choosing between different asphalt shingles, here are five reasons why you should choose architectural shingles for your roof.
5 Reasons to Switch From 3-Tab to Architectural Shingles
If you're in the market for a roof replacement, you might want to consider architectural shingles for your roof.
There's usually pushback from homeowners, as "upgrading" usually means spending more money. But, in the end, upgrading to architectural shingles has more benefits and may protect your roof from early repairs.
Here's what you need to know.
1. Added Curb Appeal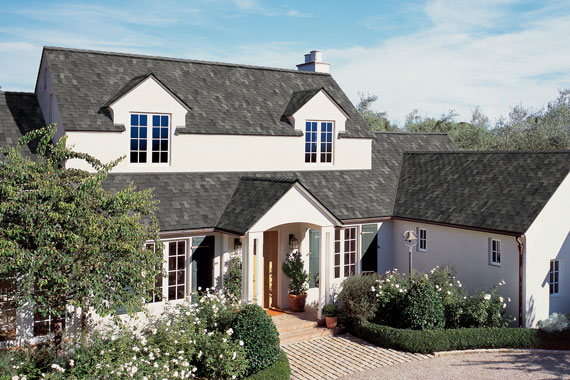 Curb appeal is how attractive your home is from the street. A new roof can improve the look of your home, no matter what type of roofing material you choose.
Architectural shingles have a higher curb appeal than 3-tab shingles.
3-tab shingles lay flat on a roof and have limited color options. Architectural shingles have a random pattern that adds dimension to your roof, and some styles simulate the look of a cedar shake roof for a fraction of the cost.
Additionally, architectural shingles have more color options and patterns. So if you want a unique look, architectural shingles provide more options.
2. Longer Lifespan
Architectural shingles also have a longer lifespan than 3-tab shingles.
3-tab shingles have a lifespan of 35 years, while architectural shingles have up to 30 years.
Typically, asphalt shingles will last around 80-85% of their maximum lifespan, meaning you should get 25 years out of your architectural shingles. However, the lifespan can be increased with proper roof maintenance.
3. Better Warranties
Beyond lifespan, better material warranty options are the most significant read to upgrade to architectural shingles.
3-tab shingles come with a 25-year warranty, compared to a 30-year prorated warranty many architectural shingles come with.
You'll also have the opportunity to get a 50-year non-prorated warranty with architectural shingles. This enhanced warranty ensures the manufacturer covers your roofing system for the life of the roofing materials.
To get an enhanced warranty, all of the roofing system's components must come from one manufacturer to form a complete roof system.
Improper installation or inadequate roof ventilation can void a warranty. Hire a high-quality roofing contractor to install your shingles, no matter which type you choose.
4. Higher Wind Rating
The difference in wind resistance between 3-tan and architectural shingles is pretty drastic.
3-tab shingles are rated up to 90 mph. Architectural shingles are rated anywhere from 120-150 mph.
This is a massive jump in the ability to resist strong winds. If you want the ultimate protection for your roof, install architectural shingles.
5. 3-Tab Shingles are being phased out of the industry
3-tab shingles have been around for a long time, but they are starting to completely phase out of the roofing industry.
As a result, they're getting harder to find and have limited color options. If you're trying to find a color match for a future repair – you may be out of luck.
Why are 3-tab shingles being phased out of the industry? Improvements in shingle technology.
Manufacturers have developed higher-quality material Asphalt shingles (a.k.a. architectural shingles). They are now the most common roofing material used in the US today.
They have improved installation techniques, durability, thickness, and more. Overall, they offer more protection for your home than 3- Tab Shingles.
How Much Will It Cost to Upgrade to Architectural Shingles?
Choosing architectural shingles gives you enhanced longevity, curb appeal, wind ratings, and warranties.
But there's still one factor that significantly impacts whether or not you want to upgrade: the price difference between 3-tab and architectural shingles.
An architectural shingle roof will cost $5-7 per square foot. However, with inflation and rising roofing prices, the price difference from 3-tab shingles is moderate.
You can learn more about choosing asphalt shingles with "3-Tab, Dimensional, or Luxury" and "What is the Longest Lasting Asphalt Shingle?"
You can also download our Buyer's Guide to learn everything you need about purchasing a new roof.
Do you need an asphalt roof replacement in southeastern Wisconsin? Contact Rescue My Roof Today to get a free estimate.