Roof Replacement Clean-Up: How Contractors Clean Your Property
Are you ready for a roof replacement but are worried about the possibility of finding nails littered throughout your yard for months on end? You're not alone.
Customers' most frequent question is how we will ensure their yard and driveway are free of nails and debris after their roof replacement. Today, we're going to answer that question.
Rescue My Roof has been replacing roofs in Southeastern Wisconsin for over a decade. We know a thing or two about high-quality roof replacements that will keep your home safe for a lifetime.
When your roof replacement is completed, your property should look just as clean and dazzling as before. By the end of this article, you'll know the exact steps your roofing contractor will take to clean your property, giving you peace of mind.
Clean Up Begins During the Roof Replacement
The cleanup process doesn't begin after the roof replacement; it happens throughout the roofing process. After the installation, 90 percent of the ground should already be clean.
During a roof replacement, the crew divides into two teams. Part of the crew is tearing off your old roof and installing the new one, while the rest are on the ground ensuring debris lands in the dumpster.
If your roof is at a walkable angle, the roofing debris can be carried across the roof and pitched into the dumpster, while a small percentage of the crew can pick up stray debris.
There will be a tarped landing zone for more difficult roofs where the debris will be thrown. The ground crew will pick it up using wheelbarrows to ensure everything makes it into the trailer.
Your roofing contractor should clean up as they go through the entire process. Learn more about the ten-step process with 10 Steps to Installing a New Roof: What You Need to Know.
Cleaning Off Your New Roof
After installing your new roof, the crew will use a handheld blower to blow debris and dust off the roof. This ensures all debris and little granules are removed.
They can also blow off excess dust from your ventilation system, leaving it clear and ready to effectively heat and cool your home. The crew will also blow off gutters and downspouts to ensure everything is perfect.
Your roofing contractor will also begin to use a magnet on your roof, gutters, and yard to pick up stray nails – so you won't find any unwelcome surprises in the future.
Inspecting Your Property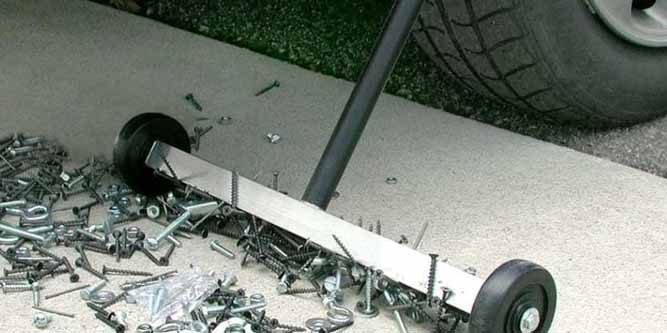 After installation and cleanup, your new roof should be sparkling.
Your roofing contractor will visually inspect your yard and landscaping, looking for any missed debris. At this point, they'll also use a rolling magnet to catch stray nails, protecting your pets, kids, and vehicles from potential harm.
The crew will load up all tools and equipment and walk around the property to clear all surfaces of debris and dust.
After all is said and done, you should end up with a cleaner yard than before your roof replacement.
Scheduling Your Roof Replacement
Getting a roof replacement can be stressful, but in the end, you can rest easy knowing your roof – and yard – are fresh and clean.
The next step to preparing for your roof replacement can be found in "Roof Installation Checklist: 7 Things to Complete Before Your Roof Replacement – Rescue My Roof."
Additionally, you can download our Buyer's Guide to learn everything there is to know about the roofing process – from shingle styles to pricing to financing.
Are you ready to replace your roof? Contact Rescue My Roof today to get a free estimate.