The Top 8 Questions To Ask A Roofing Contractor
You've done it. You've scheduled that roof inspection. You've received your estimate for your roof installation. And now you're sitting down with the contractors, and you have no clue what to say or ask.
We're not all natural-born roofing experts – and we don't expect you to be.
We've worked with many clients who are exactly where you are now. They have limited knowledge of the roofing industry and want to know how to find the best contractor.
Rescue My Roof has spent the past decade being a committed educator within the roofing industry. In this article, we'll do what we do best and educate you on the most important questions to ask a roofing contractor.
Continue reading to find out the top eight questions you should ask before hiring a roofing contractor. And at the end of this article, you will not only walk away with the most crucial questions- you will know what answer to look for.
8 Questions You Should Ask Before Hiring A Roofing Contractor
Not all roofing contractors are made equally. To find the best contractor, here are eight questions you should ask.
1. Do you have insurance?
Finding a properly insured roofing contractor is one of the most critical aspects of finding the right company for you.
Finding an insured roofing contractor means you are not held liable for any accidents or injuries on the job site.
When a contractor is insured, workman's comp will cover the accident if any workers sustain an injury while working on your roof.
However, if a roofing contractor is not insured, an injured worker can hold the homeowner liable. This leaves the door open for lawsuits, higher homeowner insurance rates, and potentially being dropped from your insurance company.
The injured worker could sue you if you do not have homeowner's insurance.
This is not an ideal situation for anyone. So when you sit down with potential roofing contractors, ask if they are insured and if they can provide an insurance certificate.
2. What is your workmanship warranty?
Workmanship warranties differ from the traditional manufacturer's warranty.
The manufacturer's warranty comes directly from the materials manufacturer. It cover's either a percentage or the entirety of the cost of repairs or replacements and is still valid even if your roofing contractor goes out of business.
Workmanship warranties are warranties ensured directly through the roofing contractor.
Should any repairs or replacements need to be done because of poor workmanship, the contractor will cover the costs of the work. The only exception will be if the roofing contractor has gone out of business. In that case, the workmanship warranty would no longer be valid.
If you want to ensure your roof's longevity and want to cover any future repairs that may need to be done, ask about the contractor's workmanship warranty.
The length of time will vary from contractor to contractor. Typically, contractors offer anywhere from one year to a lifetime. To get this information, you will have to ask what kind of warranty they provide.
3. Are you a manufacturer-certified contractor?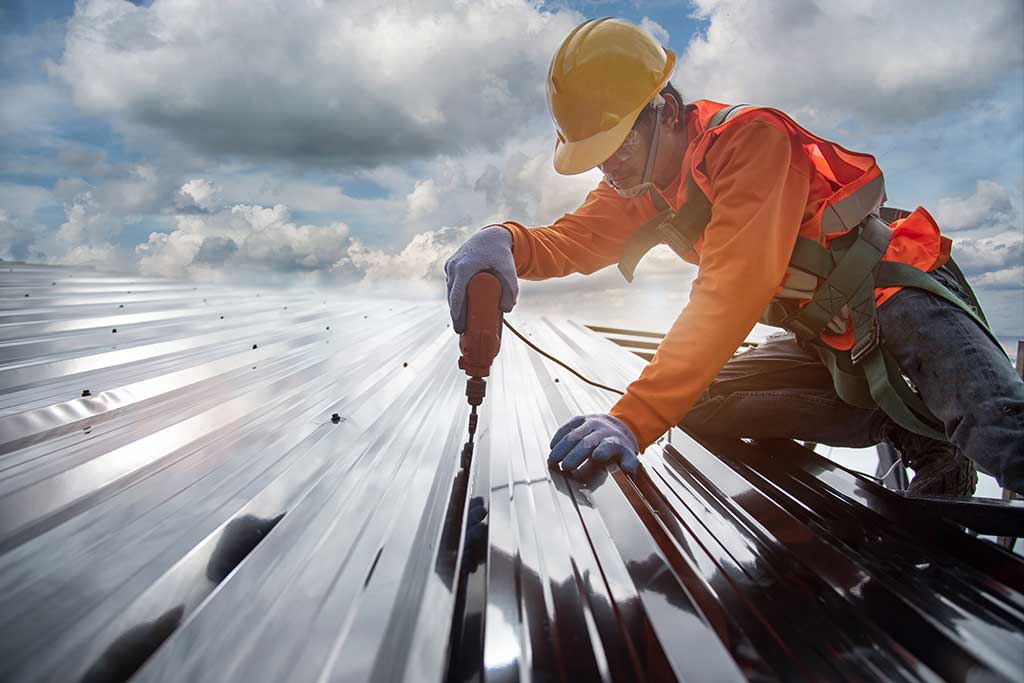 The best contractors in a given area are qualified to receive certification from the top shingle manufacturers.
Shingle manufacturers will pick about 6-10 contractors and ask them to undergo the certification process.
This process proves that the contractor will install their products correctly using the manufacturer's instructions. For you, this means that you will get the most out of the materials, and your roof's lifespan will be longer.
So, ask if they are certified and to see a copy of the certification. If the contractors have it, you know the shingle manufacturer trusts that contractor and is a reputable company.
4. How will you protect my property?
A great roofing contractor should have your best interests at heart. This means exceeding your expectations with your new roof and providing top-notch protection for your home.
Contractors should have safety measures in place to your home's exterior, any plants, windows, light fixtures, etc.
The standard protection is using tarps to cover your home's sides and using plywood to cover any fragile objects like windows and screen doors. If the company doesn't use any of these safety measures, it would be best to stay away.
Additionally, ensure they have a process for what happens if there is any property damage. Some companies may say that you are responsible for any damage in their contracts.
Protecting your property is essential, so ask your contractor about their practices and policies that will keep your home safe. Read How Your Home is Protected During a Roof Replacement to learn more about home protection.
5. Are you a local contractor?
Finding a contractor that is local to your area is essential. Always ask where their physical office is, and check the area code on their phone number to ensure you know where they are located should a problem arise with your roof.
There are instances, like after a big storm, where a company from outside your area will come in to maximize its profits. They'll replace your roof and then move on. And if issues come up, they will be harder to contact.
Additionally, those companies may not know local codes or adequately install your roof to maximize its lifespan.
In comparison, local companies will know the installation codes, required paperwork, and procedures and leave their reputation within the community on the line.
Not only do they know everything necessary to ensure your roof is installed correctly and up to code, but they will also want to exceed your expectations because their reputation can be negatively impacted.
6. Do you have references?
References are crucial to finding the right contractor for you. While you can always search for reviews online, it's crucial to see how the contractor handles the request for references.
Reputable contractors will be happy to provide references from recent jobs completed in the past three to six months.
Non-reputable companies will not be so eager to honor your request. If they are hesitant to provide references – don't work with them. There is never a good reason for not wanting to provide proof of quality work.
7. If I have a problem, can I talk to the owner?
When an issue arises, you'll want answers and solutions right away.
When discussing the issues with a supervisor or project manager, they may need more resources or authority to get you the quick solutions you need.
A company should always give you access to the owner so that you have peace of mind that, should an issue arise, you know exactly who you're dealing with.
Those in charge should take the time out of their day to listen to your concerns and to make your problem their problem. That way, you know you are getting the best service possible.
8. How long have you been in business?
Finding established companies with necessary skills and experience can be an invaluable asset to your roof replacement.
Many companies fail within five years, roofing companies included. You want to be sure that when you need repairs or a replacement down the road, that company will still be there to fulfill any warranties.
Additionally, the longer they are in the business, the more experience they have. They will know how to properly install a roof and provide exceptional customer service.
With that in mind, it's always a good idea to ask how long a company has been in business to ensure that they are reputable and trustworthy and you won't find any unsolvable problems later on.
Finding the Right Roofing Contractor
Asking a contractor how they handle home protection, warranties, insurance, references, and more will give you the right clues as to which roofing contractor best suits you.
Reputable companies will have no issue accommodating any request or questions. They should provide the proper paperwork, references, and answers to put your mind at ease.
Continuing your education will help you achieve the best roof for your home because you will be educated about every step in the process.
You can get educated on the roofing process with "How Long Will My Roof Replacement or Repair Take" and "What To Expect at your Roof Estimation Appointment."
You can also download our ultimate roofing guide with everything you need to know about buying a new roof. 

Ready to make the appointment for a free estimate? If you live in the greater Milwaukee area, you can contact Rescue My Roof to schedule your appointment today!